Plant Facilities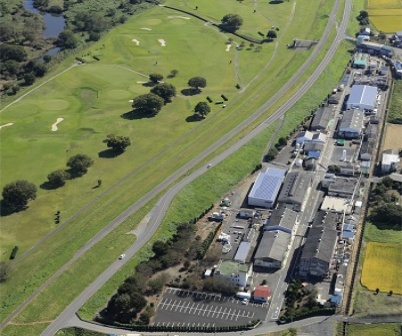 ASHIKAGA Plant
Our plant is located in Ashikaga City, in the southern part of Tochigi Prefecture, an area with a climate suitable for production and a location convenient for distribution. The plant boasts production volumes of cysteine for pharmaceuticals and its derivatives, and L-tyrosine for infusion use, that are among the largest in the world. To ensure stable quality, steady supply and low cost, we endeavor to maintain operations at or above the GMP level and have established a quality assurance system that meets the highest world standards. In addition, we have acquired ISO14001 certification and give top priority to keeping the plant healthful, safe and environmentally friendly.
※GMP = Good Manufacturing Practice
| | |
| --- | --- |
| Address | 610 Yanada-cho,Ashikaga TOCHIGI 326-0321 JAPAN |
| TEL | +81-284-71-2181 |
| FAX | +81-284-72-5819 |
| Site area | 35,000m² |
Composition of Facilities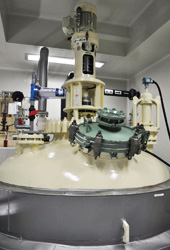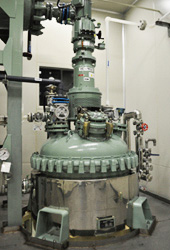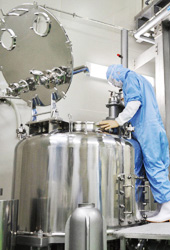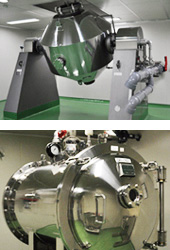 To deal with diverse "needs", "sizes" and "mass production requirements for future demand," we have established a mulch plant equipped with a clean room, as well as production facilities of various sizes and for various materials.
Status
Lot size
Facility
Trial Production 〜 Midium volume Production
10kg〜100kg
Type
Specification, Quality of material, etc.
Nummber
Clean room
Class 100,000
1
Reaction vessel
50〜1300L
Glass lining
8
150〜600L
SUS
2
Centrifuge
36in.
SUS
1
Filter tank
Φ700mm
SUS
1
Filter dryer
500L
Hastelloy
1
500L
SUS
1
Conical dtyer
400L
GL
1
Shelf dryer
–
SUS
2
Rotary evaporatus
20L
Glass
1
Distillation apparatus
100L (1hPa or less)
QVF
1
Mill
Jet Mill
SUS
1
Mass Production
100kg〜500kg
Type
Specification, Quality of material, etc.
Nummber
Clean room
Class 100,000
3
UF Water equipment
2000L/H
2
Reaction vessel
2000L
Glass lining
8
3000L
Glass lining
2
5000L
Glass lining
2
Centrifuge
48in.
Rubber lining
2
48in.
SUS
2
Dryer
1000L(Conical)
Glass lining
1
2000L(Conical)
Glass lining
1
1000L(SV mixer)
SUS
1